At Emich Volkswagen, we treat you like you're part of the family. A family-owned and operated business since 1922, we are passionate about giving you a fair deal on a quality vehicle, excellent customer service, and the highest quality service and repairs, because that's how you should treat family.
We proudly stock a wide variety of new Volkswagen cars, crossovers and SUVs. If you're looking for a fun, capable, and reliable VW vehicle, you'll have plenty to choose from at our convenient new Denver location.  If a quality pre-owned vehicle is what you are looking for, you will find a great selection at Emich VW too.
Emich Volkswagen stands by our vehicles by offering expert scheduled maintenance and vehicle repairs at our Denver area Volkswagen service center. Our VW-licensed technicians know your vehicle inside and out, and they use authentic OEM manufacturer parts and components to ensure that your car is always running the best possible.
Check out all the reasons to shop with Emich VW, and see what some of our loyal customers have to say about us:
Nearly a Century of Fair Prices and Friendly Service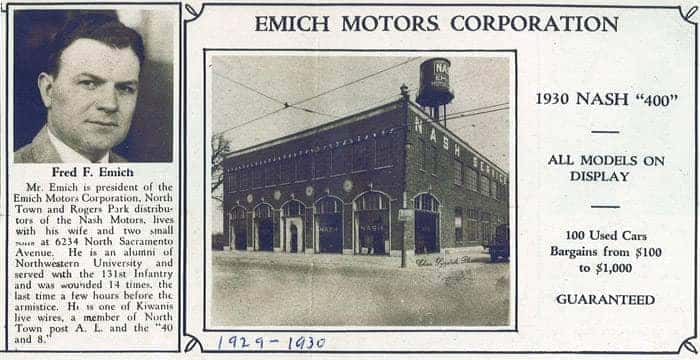 Emich Volkswagen is one of the most highly-regarded and highest-rated automobile dealerships in the Denver metro area. We continue to honor the legacy established by our founder Fred Emich, who said "we will treat our customers just like family". Since 1922, Emich has always done that – offering our customers fair prices, friendly service, and a comfortable sales process.
"The Emich VW experience is fantastic–keep it up and don't change a thing!" – Stephen S.
The #1 Volkswagen Dealership in Colorado
At Emich VW, customer relationships are always personal. While other dealerships focus on selling you a car, our goal is to put you in the right vehicle – one that meets your needs and fits your budget. When you care about your customers, success follows. That's why we are #1 in Volkswagen sales in all of Colorado, and in the top VW dealerships nationwide (#16 according to 2020 annual new VW sales as reported by VWoA)! Volkswagen has awarded Emich Volkswagen it's most coveted award – the Wolfsburg Crest Club Award – for 10 years in a row. Come visit and see why we are the best Volkswagen dealership in all of Colorado!
"Friendly sales staff, a sales manager who talked to me, and quick and easy process. Best car buying experience ever (in the US)." – Uwe E.
Hassle-Free VW Service and Repairs in Denver
Schedule an appointment when it's convenient for you, and our Emich VW Service Advisors will take care of you every step of the way. Come into our Service Drive and your vehicle will be in the best of hands. While our factory-trained technicians deliver you dependable, quality, and timely vehicle maintenance or repair, our Emich Service Advisors keep you apprised of your vehicle's progress. The Emich Volkswagen Service team has been named one of the few Product Field Investigation dealers nationwide, meaning our technicians are privy to the latest updates from Volkswagen engineers.
"I was kept up to date on the repairs and when my car would be done, and I got it back quickly. I will be using Emich from now on for any service needs!" – Meagan C.
You can wait for your vehicle to be serviced or we can get you a ride to and from wherever you need to be. We will drive you, we will get you an Uber, or you can take advantage of our 50-car fleet of loaner vehicles. If you choose to wait in our comfortable Emich VW Guest Lounge, you can relax, enjoy complimentary snacks, water, and coffee, watch television and enjoy our high-speed wifi. That's service without any hassles, from a family that treats customers just like family.
"One of the few dealerships left that takes pride in their product, lives by their word and does right by the customer. Emich Volkswagen is an honest dealership you can trust!" – Nicole H.
Emich VW VIP Member Rewards
When you buy or lease a new or used vehicle from Emich Volkswagen, you save money every time you come back for service. Our exclusive Emich VIP Member Reward Program pays you an annual dividend equal to 10% of what you spend with us on maintenance and repairs! Your dividend is put in your account and you can use those monies anywhere within the dealership – for parts, service or to buy a car.
"They work with my schedule and remember me and my vehicles. I recommend just taking it to the dealer to any friend with a VW. They've kept my VWs running in top shape for 40 years." – Josie N.
A Tradition of Taking Care of Each Other
Emich Volkswagen is passionate about taking care of our employees, customers and community. When one of our managers was diagnosed with cancer, our employees banded together to provide comfort and support. That tradition of taking care of each other spawned our "No Shave November" fundraising event. With every car sale and service in the month of November, our employees will donate a portion of their pay to the University of Colorado Hospital Foundation and Cancer Center. The Emich family matches every dollar raised during this event to double our Emich contribution!
"Great dealership! They have always been straightforward and honest with trade-ins, service work and my new car purchases. I've been a customer for 8 years and 3 cars and plan to continue well into the future. Keep up the good work." – Travis C.
Our Commitment is to Take Care of You
At Emich Volkswagen, we have treated our customers like family for nearly 100 years. Fair prices on new and used cars, and service that is friendly and convenient – that's our commitment to you. Come visit us and experience why Emich is the #1 Volkswagen dealership in the Denver, Colorado area.
"I appreciate how even 15 years later, I still see many of the same faces – it makes it feel like home and you can tell they take care of their people." – Christopher P.
One of the Best Volkswagen Dealers in the Country!
Emich Volkswagen the #1 VW Dealer in the State of Colorado*, and the #16 VW Dealer in the USA* (*2020 annual new VW sales as reported by VWoA)!  We have won the prestigious Wolfsburg Crest Club designation every year since 2010.
---