How to Buy a Car Online at Emich Volkswagen
At Emich Volkswagen, we recognize that some of our valued customers prefer the convenience of online vehicle shopping. So, we have upgraded our website to give online shoppers the same transparent and hassle-free buying experience we strive to give our Denver, Colorado showroom visitors. You can easily find out about our competitive Lease/Finance Options and unlock our best offer on your next VW car, crossover, SUV or EV from the comfort of home! 
How to Use the Lease/Finance Option:
1) Click on the bright red Leasing and Financing Options button in the listing.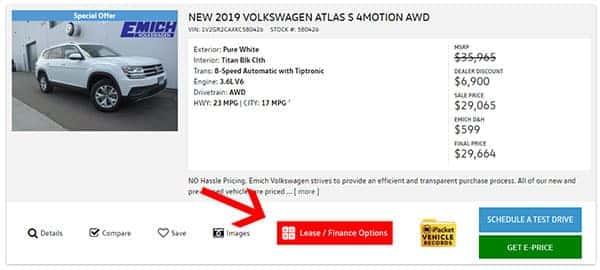 2) Enter your first and last name, email, phone number, and zip code in the appropriate fields.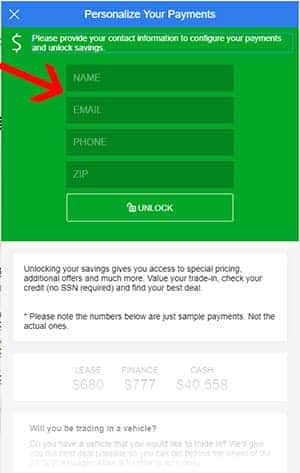 3) You'll see three tabs: lease, finance, and cash.
Cash: This section gives you our best grand total price if you were to pay out of pocket, all taxes and fees included.
Finance: With this option, you can research different monthly payment options for vehicle purchase.  This is calculated based on how much money you will be willing to put down as an initial payment and over how many weeks you want to pay for the vehicle. Your grand total monthly payment is directly below the tab label.
Lease: Here you will be able to see the best monthly payment options that depend on lease term, how many miles you plan to drive, and how much money you're willing to put down.
4) If you are interested in trading in your current vehicle, scroll to the Trade In tab and enter your vehicle's information to get an honest estimate of your current vehicle's value.  The trade-in value estimate will automatically apply towards your three payment options, discounting the respective price and monthly payments.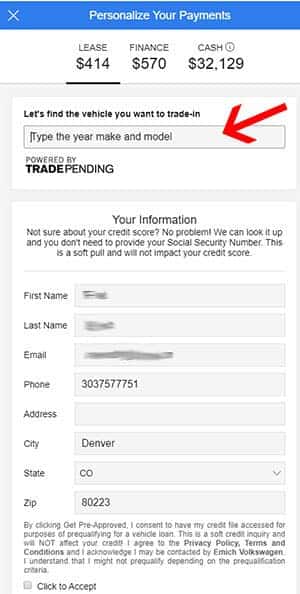 5) Click the Reserve This Car Button to begin the transaction process. Browse our selection of protection packages, verify your credit score, and upload pictures of your insurance card and driver's license. Choose if you would like complimentary home delivery in the Denver area.
6) You will get a confirmation page and the ability to setup the entire purchase, including home delivery of your new vehicle!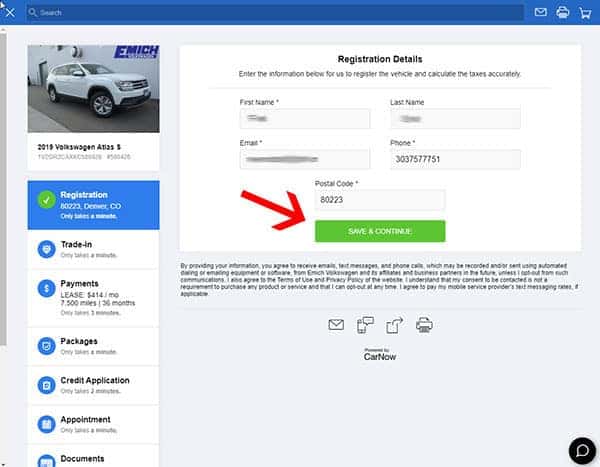 If you have questions about the process, use the Chat Now button which will connect you with one of our knowledgeable sales consultants.
Click on the Test Drive Button to schedule a time to visit Emich VW at our new location at 350 S. Santa Fe Drive in Denver, CO.  Connect with a sales consultant to finalize and confirm the transaction.  Then, drive home in your amazing new Volkswagen car, crossover, SUV or EV today!