Why Service with Emich VW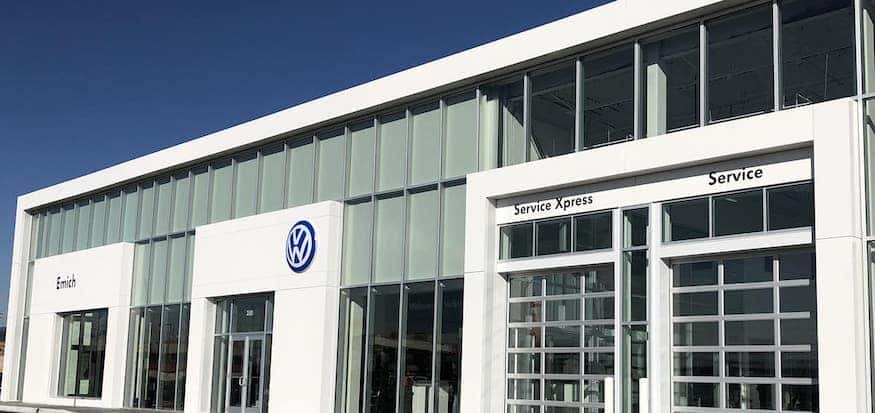 There's no shortage of mechanics and auto shops in Denver, but that doesn't mean you should trust just anyone with your beloved car. For many reasons, Emich VW should be your first choice for efficient, affordable, high-quality Volkswagen service.
Trained VW Technicians
At Emich VW, we have a state-of-the-art service department staffed with trained, certified Volkswagen mechanics who truly know your vehicle inside and out. New vehicles now contain numerous complicated, brand-specific digital systems and sensors, so the knowledge and tools available at a genuine VW dealer and service center go a long way. Our team is committed to making sure your vehicle is cared for every step of the way, and they have what it takes to get the job done.
Real Volkswagen Parts
To ensure that your car is repaired, customized, or upgraded with only the best components, our service center uses and sells authentic OEM Volkswagen parts. Whether you need to replace an engine component or you're just looking to customize your ride, get your parts from our Denver VW parts center.
VW Service Specials
Not only do we offer quick, professional service, but we also offer the opportunity to get a great deal on all of your maintenance needs thanks to our rotating service specials. Check out all our offers before you make your next appointment!
New Location in Denver
Emich VW recently moved into a brand new, state-of-the-art facility. Our beautiful new location in Denver has 65% more service bays, meaning we can handle more work in less time–and you don't have to wait long for service. Enjoy the comfortable lounges and complimentary amenities while we work to make sure your car is running as it should be for years to come.
No-Appointment Maintenance with Service XPress
With Volkswagen Service Xpress, your short wait times are even shorter. For a number of routine maintenance procedures, there's no need to even make an appointment. That means you can get your wiper blades, bulbs, filters, or battery replaced quickly. Need an oil change? Same policy. All VW Service Xpress visits include a no-charge multi-point inspection–plus, we send out a video during all services so customers can see firsthand what was found during the inspection of their vehicle.