2020 VW ID. Crozz SUV Coming to Denver, Colorado

2020 VW ID. Crozz MEB Electric SUV Coming to Denver, Colorado
Volkswagen is revolutionizing the electric vehicle market with its innovative offering of concept vehicles. Now one of these amazing vehicles is ready for production. The 2020 Volkswagen ID. Crozz Electric SUV is expected in dealerships in late 2020. The ID. Crozz will bring a new light to the compact SUV field, giving drivers an exciting change to their perception of what the ideal compact should be. Blending the appearance of a sporty sedan and impressive functionality of a SUV, the ID. Crozz is a strikingly beautiful vehicle that will be sure to turn heads no matter where you go. Plus, it will reportedly carry an affordable price tag.
Performance
The 2020 VW ID. Crozz will be built on the MEB platform, which is designed to be the central platform for Volkswagen's electric fleet moving forward. Separate electric motors will power the front and back wheels, giving excellent rear-biased four-wheel drive capability. This full-battery electric compact SUV's four-wheel drive will greatly improve the overall handling potential for every driver. The ID. Crozz was designed to have as close to 50-50 weight distribution as possible, with the goal being to ensure this Volkswagen is highly maneuverable regardless of the road conditions.
The range is currently listed at estimates between 200-250 miles while also generating up to 300 brake horsepower. The reported charge time for this innovative VW will be as quick as 30 minutes, thanks to compatibility with fast charging technology.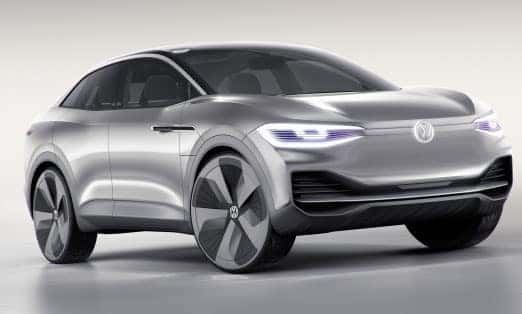 Technology
With all the changes to design philosophy the VW ID. Crozz will feature, one important aspect that will remain is the large amount of cabin space for both the front and rear passengers. The concept model that has been showcased features four seats, however five seats will be the standard when the ID. Crozz is released to the public. The concept vehicle also features a digital dashboard and I.D. Pilot autonomous driving system, but it is currently unknown whether either of these will appear on the final product. Other possible features include advanced head-up display, augmented-reality windshield, and panoramic sunroof with motion-controlled movable shade. It will include a new selection of driver assistance technology, which will enhance the overall safety of the ID. Crozz.
Volkswagen ID. Crozz Coming to Denver, Colorado
The all-new 2020 VW ID. Crozz SUV, built on the MEB platform, is expected to be available for sale or for lease sometime in late 2020. Emich Volkswagen, Colorado's #1 VW Dealership, will be taking orders for these amazing SUVs in the near future, so please check back often. If you would like more information on this incredible vehicle, please CONTACT US and will get back with you right away!