Purchase an Excellent Third-Row SUV at Emich VW in Denver, CO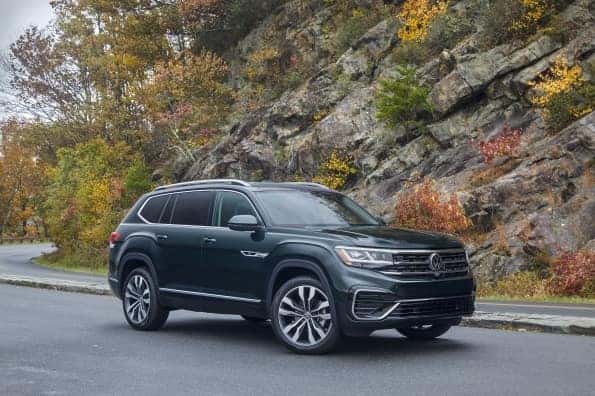 Find a Reliable, Fun Third-Row Volkswagen SUV in Denver
Are you looking to find a vehicle that will fit your family with plenty of seating? At Emich Volkswagen in Denver, CO, we are pleased to offer two Volkswagen SUVs that are available equipped with third-row seating. When you opt for a Volkswagen, you get a vehicle that is dependable, enjoyable, and powerful. This is true with both the 2022 Volkswagen Atlas and the 2022 Volkswagen Tiguan. When you and your family get into one of these sensational vehicles, you will get to experience the difference that has pleased Denver Metro VW fans for years!
Third-Row Volkswagen SUV Options
2022 Volkswagen Atlas – The 2022 Atlas is the largest SUV that Volkswagen offers, and this translates to a sensational driving experience every time you and your family get into the vehicle. Every row provides its passengers with plentiful arm and leg room, ensuring that premium comfort for long journeys across Colorado is a key feature of the SUV. This also makes large grocery runs while still traveling with the family a capable adventure thanks to the exceptional cargo space the Atlas offers. The interior of a 2022 Atlas can be easily catered to whatever needs a Denver Metro family might have, including premium comfort and entertainment features. You can't go wrong with any 2022 VW Atlas trim level in Colorado!
2022 Volkswagen Tiguan – While the standard 2022 Volkswagen Tiguan SUV is a five-seater, two-row SUV, there is the option for a third-row model. Since its initial debut, the Tiguan has shone as a leading option in the entire Volkswagen lineup. Its sporty performance and modernized interior have continued to be a preferred choice for Denver Metro families. When you opt for a third-row version of the Tiguan, the normally compact SUV gets an impressive 123.9 total cubic feet of passenger space for every occupant to enjoy. This version of the Tiguan also features up to 65.7 cubic feet of cargo space for those trips that you need the space for hauling larger items. If you want a trusted option for everyday Denver Metro driving, you definitely can't go wrong with the 2022 VW Tiguan! 
(Photo Credit: Volkswagen)