Stop By Emich VW to Own a Special 2023 Volkswagen Golf GTI in Denver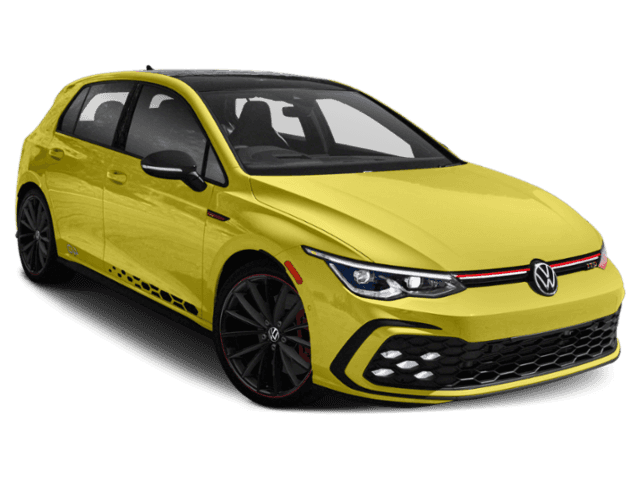 Own a Unique 2023 VW Golf GTI Hatchback in Denver, CO Today
The 2023 Volkswagen Golf GTI is already an exceptional hatchback for performance-minded drivers who also want the added functionality the body style delivers. Now you have an opportunity to own a special version of the vehicle when you visit Emich Volkswagen in Denver, Colorado. Painted in a unique Polemo Yellow and sporting a blacked-out roof, this VW Golf GTI 40th Anniversary Edition is a premier cruiser if you're looking to stand out from the crowd. Come visit our Denver Metro region dealership today for more information about this special Golf GTI that's available today.
2023 Volkswagen Golf GTI Information
Unique Appearance – You won't find many versions of the 2023 Volkswagen Golf GTI painted in the Polemo Yellow color that this iteration of the hatchback is. The color combines with the blacked-out roof to give the vehicle a sporty appearance that will draw the attention of those who see the Golf GTI pass by them. This paint scheme also blends nicely with the sportier exterior design of the hatchback.
On-Demand Performance – This 2023 Golf GTI 40th Anniversary Edition hatchback offers the vigorous, yet reliable everyday performance you expect from the vehicle. Led by its 2.0L TSI engine, the Golf GTI gets around the Denver Metro region with bursts of exciting acceleration and overall speed. The seven-speed DSG automatic transmission that is paired with the engine also accentuates every bit of power the vehicle has to offer while keeping the ride as smooth as possible.
Numerous Interior Amenities – Being the 40th Anniversary Edition of the 2023 Golf GTI, this vehicle is well-equipped with modern comfort and infotainment amenities. The sport seating is upholstered with plush cloth, while the front seats also gain heated functionality. From its 8.25-inch touchscreen on the dashboard, the MIB3 infotainment system is home to a wide array of applications. These include Bluetooth connectivity for compatible devices.