Volkswagen Driver Assistance Features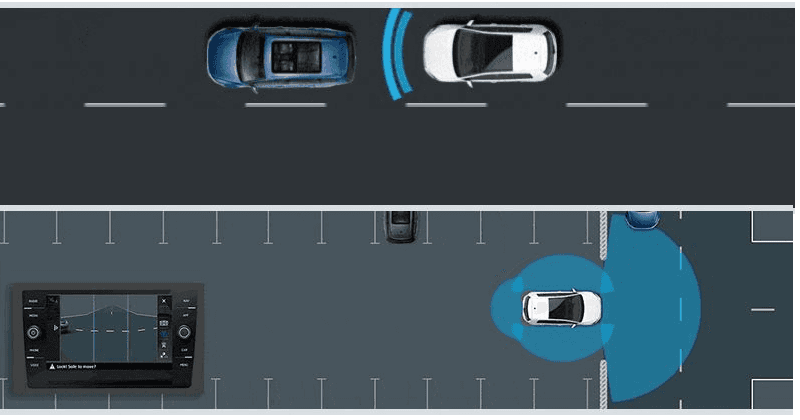 Car safety has come a long way since the advent of the seat belt and the airbag. As vehicles move from purely reactive safety to a more proactive, intelligent approach, the Aurora area roadways get safer.
Volkswagen is at the forefront of this safety revolution, and the vehicles here at Emich VW are equipped with some of the most robust safety suites you'll find in any new car lineup. Here are some of the brand's main driver assist features.
Volkswagen Driver Assistance Features
Blind Sport Monitor
No amount of good design can totally eliminate blind spots from cars. VW's Blind Spot Monitor uses sensors to detect if any other vehicles are moving into your blind spot, allowing your car to alert you of their presence.
Front Assist
Front Assist consists of multiple unique driver assistance features. Forward Collision Warning notifies you when vehicles, objects, or pedestrians cross into your vehicle's path, and with Autonomous Emergency Braking, your VW can automatically apply the brakes to avoid or mitigate a collision.
Rear Traffic Alert
Rear Traffic Alert uses sensors on both sides of your rear bumper to alert you, both visually and audibly, if anything is crossing into your path while in reverse. Just like Front Assist, it can also apply the brakes for you if necessary.
Lane Assist
Lane Departure Warning detects road markings and can alert your or even correct your steering if you begin to drift into another tlane without your turn signal engaged.
Adaptive Cruise Control
Adaptive Cruise Control takes the convenience of cruise control and makes it safer by detecting and maintaining a fixed, safe distance from the vehicles ahead of you.
Park Pilot
Not the best parallel parker? Park Pilot gives audible and visual signals to help you get in and out of tight parking situations cleanly. On the display, you'll see visual cues, distances, and the position of obstacles in relation to the vehicle.
Park Assist
Parking Steering Assistant takes things a step further: It can take parking off of your hands. It can judge if your VW will fit into a parking spot and then it will help steer the vehicle into the space. You control the gas and brakes, but your VW turns the wheel.
Area View
The optional Area View camera system uses multiple cameras on the outside of the vehicle to help give you a full view on everything surrounding your car, so you can be confident while navigating tight driveways and packed parking lots.
Light Assist
High Beam Control helps improve visibility by automatically detecting light and switching on and off your high beams at night on dark roads. They're on when you need them and off when you don't, and it can also determine when another car is headed your way to turn them off again.
Find a Safe New VW For Sale Near Aurora
Looking for an impressively-equipped new Volkswagen with driver assistance tools that'll always keep you safe? View the new VW selection here at our Aurora area dealer, and don't hesitate to contact us if you have any questions about which of our vehicles contain these smart tools.