VW Microbus Denver Colorado
The VW Microbus is Back – with VW I.D. Buzz!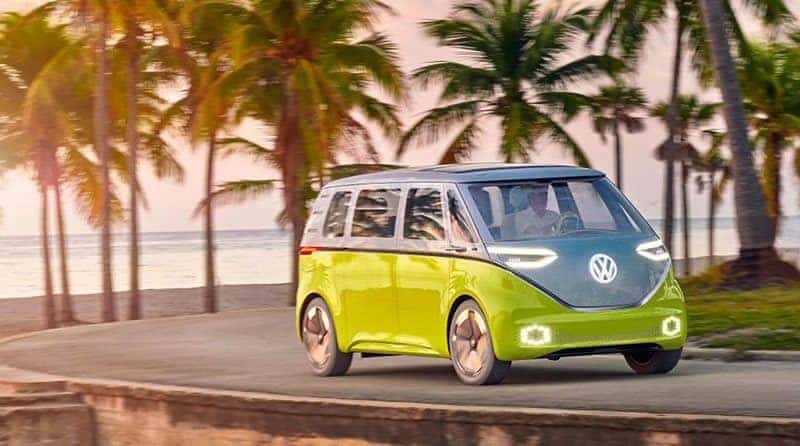 Coming to Emich Volkswagen in Denver, Colorado for the 2022 model year…. The all-electric VW Microbus! It has been a long time since Volkswagen has produced the bus in the 1950s. Even though the VW bus is an iconic piece of history, Volkswagen is going to revive the idea using all the latest modern techbologies. The new VW microbus will be built on the Modular Electric Drive Kit (MEB) platform that will be shared among multiple VW vehicles. The platform is called the I.D. Buzz. The I.D. Buzz platform generates 369 hp from electric motors on each axle, providing all wheel drive. The Volkswagen bus also has a 111 kWh battery pack in the floor of the MEB chassis provide nearly 300 miles of estimated range. Using the VW fast-charge system, the bus will gain approx. 80 percent of its energy capacity in 30 minutes at 150 kW. For those who remember, the original VW bus had only 30 hp!
If you are in a hurry to get VW's newest fully electric battery vehicle sooner, you only need to wait for next year!  We will have battery powered vehicles in 2020!
Volkswagen is going a long way to make sure the new bus pay homage to the original. The size and design of the MEB platform allows plenty of space for passengers and/or cargo, with a wide open view of the surroundings. The all-new microbus seats eight people, and can hold up to 162.5 cubic feet of cargo when the seats are folded or taken out of the vehicle. This is a similar amount of space as most of the larger SUVs have, without the overall size. The microbus even has a front trunk, just like the original VW Beetle.
We look forward to having our inventory full of the new 2022 Microbus and the I.D. Buzz platform as soon as they are released for sale and for lease in the Denver, Colorado market!