Newest Volkswagen Golf GTI Makes Global Debut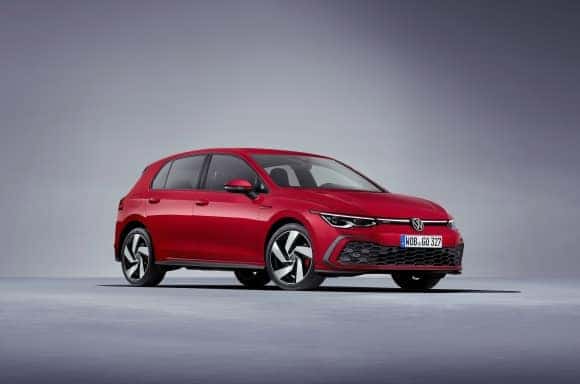 At the Geneva Motor Show this year, the new model year of the Volkswagen Golf debuted showing off some exciting new options!  Besides the powerful GTI version, the eighth generation Golf will be adding a GTE and a GTD version to the line-up.  This means three different Golfs to choose from, with very powerful characters and features, and three efficient and clean drive options depending on what you're looking for.  The original GTI provides you with a powerful engine that's not only efficient but gets up to 245 horsepower.  The new hybrid drivetrain of the GTE has an identical output of 245 horsepower that combines electric sustainability and the Earth-friendly zero emissions range of around 37 miles.  Finally, the GTD version is the real endurance champion with its diesel engine, 200 horsepower, and longer ranges in between refuels.   
The new sporty Golf models also have a great new design that is sure to impress anyone!  The standard LED headlights are low and a colorful stripe starts at the top of the hood and slopes towards the front end with a different color for each Golf option; the GTI gets red, the GTE gets blue, and the GTD gets silver.  When the daytime running lights are active and the driver approaches with a key, there is a LED strip in the headlight mirrors that mirror the same color.  On the backside of the different Golf variants, you'll also get a distinct tailpipe configuration; the GTI has one tailpipe on the left, the GTD has a double tailpipe on the left, and the GTE has no tailpipe. 
The interior of the new range of Golf models also depends on the one you choose, but each comes with their own distinctive sportiness that you would associate with the model.  The cockpit will offer you a top-rated and high-quality digital screen with an additional navigation option for your convenience, while being paired with the optional mood lighting to fit your wants.  The Golf family will have options for transmissions; the GTI is equipped with a 6-speed manual, (or an optional 7-speed automatic), the GTD offers the same automatic transmission, and the GTE features a 6-speed automatic specifically designed for it.  More features for comfort, entertainment, and convenience make this new family of Golf models a real powerhouse trio coming soon!